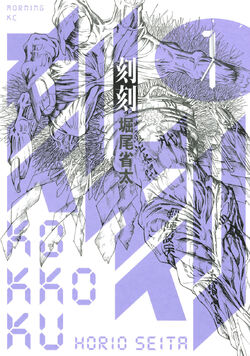 Kokkoku: Moment by Moment (刻刻 Kokkoku) is a Japanese horror drama mystery manga series written and illustrated by Seita Horio, first serialized in Kodansha's Morning Two magazine from August 21, 2009 to October 23, 2014, which Kodansha compiled into 8 tankōbon volumes. The manga tells the story of Juri Yukawa, who during a kidnapping of her nephew and brother, discovered that her grandfather can stop time using a mysterious stone and that can move freely when time is standing still.
It is currently licensed outside Japan by Kodansha USA and is released in both print and digital versions. An anime television series adaptation (Kokkoku) by Geno Studio will premiere in Japan on January 7, 2018 on Tokyo MX and Nippon BS Broadcasting.[1] Amazon Video will exclusively stream the series worldwide.[2]
Juri Yukawa was a young mischievous girl living with her family, but unknown to her that her family holds a secret on stopping time. When her brother and nephew was suddenly kidnapped by a cult named the "True Love Society", her grandfather used a special stone in order for her and her father to enter a world called Statis where time stopped still. Though when they venture through the Statis to infiltrate the cult's hideout, they met with other people who can move through the strange world as well as strange grotesque monsters living in it. Juri herself will discover the secrets behind the stone and Statis itself, as they slowly unfold right before her...
Characters
Edit
References
Edit
External links
Edit